FIESTA AFRICANA @ The Backstage Lounge –  Vancouver
The Backstage Lounge is still open until the end of the year, so let's dance ! How about this classic monthly Vancouver dance party featuring the best in new and vintage African, Latin, Brazilian and tropical dance music ! Special guest on percussion: Kurai Nyamukapa from the marvelous Zimbamoto band !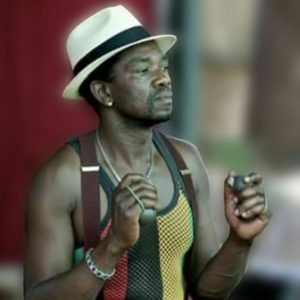 HIP HOP HOOP DANCE
From Saskatchewan, Terrance Littletent and Chancz Perry bring to the New Works stage an energetic and heartwarming production that celebrates converging stories and traditions.
The scene is set in a park in Saskatchewan, where an Afro-Caribbean-Canadian hip hop artist and a world-renowned hoop dancer of Cree ancestry meet for the first time.
While sharing their dance forms and musical influences, learning about each other's cultures and customs through dialogue, movement, and mutual exchange, the Artists realize they have much more in common than they had initially anticipated and create a melange of urban hip hop and traditional pow wow: The Hip Hop Hoop Dance.
Friday, Sept  20, 1:00 and 8:00 p.m
Waterfront Theatre, Granville Island
1412 Cartwright St, Vancouver
Tickets: Sliding scale $8 – $18 – $28
Pay what you can afford. Book online at: 
hip-hop-hoop-dance.eventbrite.ca
AUXILIARY EVENT
Dance Workshop with Terrance Littletent & Chancz Perry
Wednesday, September 18, 6:30 – 8:00 pm
Waterfront Theatre, Granville Island
Sliding scale $5 – $25
To register email info@newworks.ca
Playing in Africa!
Africa with the Masters festival takes place at the Russian Hall (600 Campbell ave.), from 10 am to 5 pm on September 28 and 29.
 Saturday, Sept 28 is African Play Day! A free event to discover and play fun games from Africa, while learning more about the continent and its people.
 Sunday, Sept 29 is drum & dance workshops day! You are invited to experience the joy of drumming and dancing together as a community. Children are welcome too, since they are important members of our community. Only $5/workshop per adult. Free for kids under 12.
 This 2-day festival will launch at 7:30 pm on Friday, September 27th with Trio Africa, a fundraising dinner and concert event at Moberly Arts Centre (7646 Prince Albert st).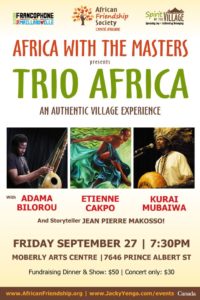 Full details at http://www.jackyyenga.com/events/. Reserve your free access: https://www.showpass.com/africa-with-the-masters-3/. Reserve your spot for dinner: https://www.showpass.com/trio-africa/