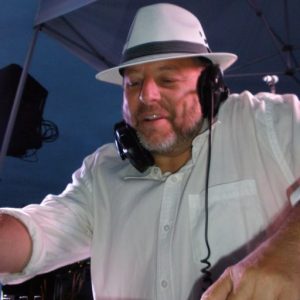 I breathe music. I live for music and I love to play music for people and talk about it on radio. My first paying gig was at 16 in Kibuye (Rwanda) and I never looked back. I've played on boats (the France-Ireland ferry crossing), trains (in the Piedmont, NW Italy), bars, restaurants, clubs and festivals. I have a knowledge and a passion for African, Indigenous, Brazilian, Latin, Flamenco, Ska, Reggae & other Caribbean music, Electronica, Middle Eastern and Film Music etc… The collision of cultures has created social shocks but also given us great music and still does. I am interested in collisions, experiments and meetings through music. Music is light years ahead of politics and current social debates. Music is also timeless. As a DJ, I always want to have a live element. Most of the time, I play with one or many percussionists.
I've been DJing ever since I've been able to put a needle on a record (that was before I knew how to walk according to my mother; a crawler DJ I was). I specialize in what some call World Music. From Art Gallery openings to Dance Clubs, Concert Halls and Catwalks, I have been creating soundscapes and soundtracks to create a musical trip. Since moving to Vancouver in 1986, I've opened for such artists as THE THIEVERY CORPORATION, GILBERTO GIL, PARIS COMBO and LOS AMIGOS INVISIBLES.
I've had many club residencies, the most notables being AFRODISIA at The ANZA Club (1992-1999), LAZY PLEASURES at The Chameleon (1994-2001), ELECTROPICAL at The Backstage Lounge (2001-2011), FIESTA AFRICANA at The Backstage Lounge (2011-2018)
Let's not forget the musicians & percussionists who play with me regularly: Yoro Noukoussi, Israel Toto Berriel, Raphael Geronimo (Rumba Calzada), Navaro Franco (Zambai Trio), Sacha Levin, Nick Apivor, Curtis Andrew, Jack Duncan, Liam MacDonald, Robin Layne.
HISTORY
Past events: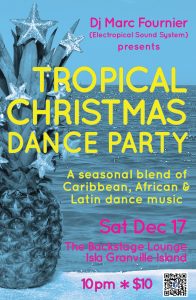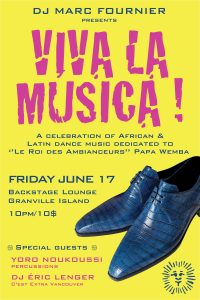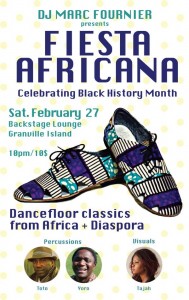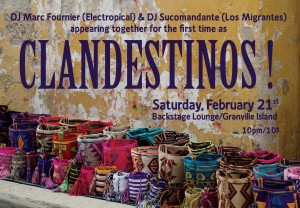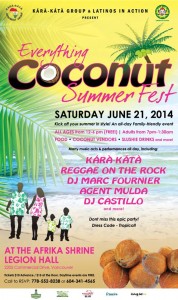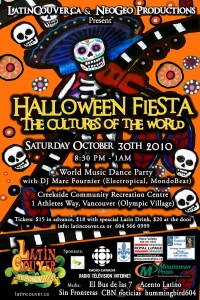 Past residencies in Vancouver:
With my music mate Michael Laycock, we held for 10 years (Nov 2004-Nov 2014) a monthly WorldBeat Dance Party called ELECTROPICAL at the Backstage Lounge. A cool and hot spot on an island…..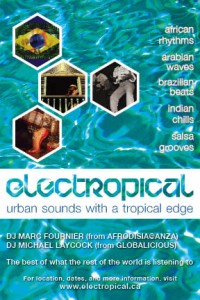 I also hosted a weekly event (5 to 9pm) at The Calabash Bistro in Vancouver called COCONUT THURSDAYS "sun-infused soundtrack for after work gatherings" spinning reggae, ska, calypso etc. (2014-2015)
A weekly event called CLAVE ! in the funky Tiki Lounge of the world famous Waldorf Hotel. (2013)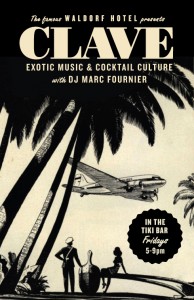 Back in the days (1992-2003) with my DJ partner Tobu Ley, we were doing a monthly African dance party called AFRODISIA…
….and a weekly lounge event called LAZY PLEASURES at the wonderful CHAMELEON Lounge.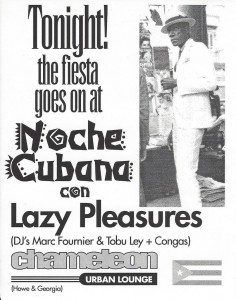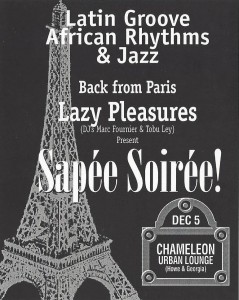 Other events in Vancouver…..
2000
The first ELECTROPICAL with Conrado Beckerman
1992-1997
Acid Jazz days at The Bottle, The Pic & The Chocolate Milk
(with DJs Clarence, David Jones, Michael Golf…)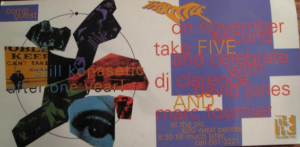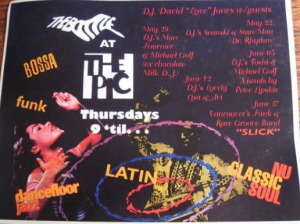 I've opened for some artists that I like and respect. Recently, LOS AMIGOS INVISIBLES from Venezuela, THE THIEVERY CORPORATION from D.C. and local bands like Delhi2Dublin and Tambura Rasa.
I do custom soundtracks for gallery openings, fashion shows, theme parties etc.